Copper P clips are widely used to secure the cable line or other fixtures including pipe,wire,etc. To close P clip round and hold the cable line and to fix them with a screw fastener through the two stamped holes during installation.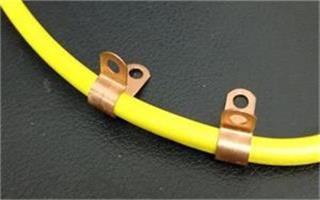 They are made by the punching machine and made of the high quality bare copper with corrosion resistancesion, fire proof, good conductivity and ductility. That realizes the purpose of fast and simple installation. Due to the fire proof feature, It is also used in the fire alarm cable system by automatic electrostatic powder coating(Spray Painting) in red color.
Cable P Clip Copper is designed and used to hold pipe, cable line, hose, wire and other fixtures. It is designed to close around itself and hold fixture as soon as being fixed together through the two fixing pre-punched holes. cable P clips are a single part for the permanent or semi-permanent fixing of cable lines, hoses and pipes. The various sizes are suitable for different diameter of cable systems or other fixtures. They are is used to fix and protect cable bundles or tube and to secure cable wire bundles when installation.
The material is the copper with the features of corrosion resistance, good conductivity and ductility for the fast installation operation. The special sizes can be made and developped as the samples supplied.Typically used where there is a possibility of chafing and damage to the components in electrical equipment, domestic appliances and cable network systems. The surface treatment could be made by automatic electrostatic powder coating for the fire proof purpose.
Besides 8 mm width size,the special sizes are available or developped as samples or sketches supplied.