Nylon butterfly toggle anchors are used together with a self-drilling screw. They are ideal for anchoring and fixing the objects in the hollow,cavity wall or panels substrate.The high class PA-Nylon or plastic materials are used to produce plastic anchor plug providing the strong toughness and hardness with moisture and corrosion resistant.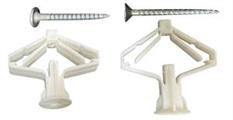 Two more wings are designed and added in the middle of chamber to enhance support force. To fasten the screw, the upper and lower ends are tightly held, so the novel design makes the two wings more support the load force. When being folded, the two wings will automatically retract and the outer two wings will not affect the insertion into the pre-drilled guide hole.

Butterfly toggle anchors are suited for indoor applications.Suggest to use with stainless or brass screw in wet climates, For installing, to make a pre-drilled hole is required. Butterfly toggle anchors are suited for indoor applications.
Features:

☛ Quick and easy to install & Nylon plug has anti corrosion and rust-proof.
☛ Being suitable for light duty loading purpose.

☛ To fasten a self-drilling screw to fold plastic wings to support base material.
☛ More two short wings are designed in the middle of chamber to strengthen supporting force.
Materials & Color:
● Nylon-PA & Various color are available.

Base Materials:
☑ Plasterboard ☑ Panels ☑ Hollow wall ☑ Cavity dry wall ☑ Cavity substrate
Applications:
♔ Install light load fixtures in panels and hollow materials.
♔ Fix battens, channels, panels, trims, etc. into cavity bricks and plasterboards.
♔ Light shelves and bathroom accessories.
♔ Radiators and cabinets on double ceramic tiles and cavity substrate.
♔ Mirrors,pictures,lamps,interior lighting,towel rack,curtain guides,bathroom and kitchen equipment.
♔ Internal air conditioning unit,electrical accessories,
♔ Fixing skirting boards, exterior walls, window elements, switches,mirror frame, etc.
♔ Bookshelf, skirting board,hanging cabinet,cable trough,clothes hangers.
Installation Steps:

① Drill a hole in the base material to ensure the correct diameter and applicable depth.

② Fold plastic wings and insert it into the hole.
③Turn screw into a guide hole in the fixture and vertically pass it through a substrate hole.
④ Fasten screw until be fixed fully.

Product size description: (mm )

| | | | | | |
| --- | --- | --- | --- | --- | --- |
| Item Code | Anchor Size | Wing Length | Wing Width | Head Dia. | Grip Range |
| NBT1519 | 15 X 19 | 20 X 2 | 8 | 14 | UP ~ 12 |
**Light type, Heavy type and Butterfly type are avaiable.