Fix bolt shield anchor projection bolt is pre-assembled heavy duty fix bolt anchor and a projecting bolt. The end of projection bolt is designed conical square shape, another end is exernal thread, fitting closely together four segment steel shield and expands entirely to cause heavy duty expansion force for installing. The steel heavy-duty four segment shields structure design has strong loading and good tensile strength in drilled hole wall, which is also suitable for large holes caused by strong drilling in weak base materials.
Fix bolt anchor projecting bolt is specially designed to generate expansion force by a projecting bolt, instead of a conical nut inserted, to tighten and make projecting bolt be pulled into expanding shield anchor body and expand to generate balanced expansion force in four directions in the hole pre-drilled in the substrate to install the fixtures.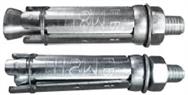 Shield anchor projecting bolts are sutiable for medium-heavy installation loading purpose.The strong retaining force could be removed very easily after being installed. As one kind of concrete wall anchors, The four segment shields are made of carbon steel plate and produced by high speed automatic punching machine. Projecting bolt shield anchors are widely being used for anchoring and fixing the objects in various structure substrate.
Product Features:
■ Pre-assembled with projecting bolt & Din 934 hex nut & Din 125/9021 flat washer.
■ Fix bolt anchor with shields without a conical nut inserted.

■ If being loose or fall scattered, could reassemble or replace a spring to be restored.

■ Generate four directions balanced expansion force provide optimal loading and ensure security of installing.
■ Being suitable for medium-heavy duty loading purpose and weak base materials.
Materials & Surface treatment:
☞ Carton steel & Zinc plating and yellow passivated.
Substrate: ☑ Concrete ☑ Masonry ☑ Brickwork ☑ Solid wall ☑ Stone

Applications:
★ Special door industry,Wall panel.
★ Installation of signs, handrails, railings, shelves and gates.

★ Installation of grating and fence and heavy machinery installing.
★ Pipe installation engineering / pipe support.
★ Cable and tower racks.
★ Installation of starter bars for structural expansion and rectification works.

★ Structural expansion and rectification works.

★ Curtain walls, cladding and precast concrete components.
Installation Procedures:

❶ Drill a hole in the substrate to ensure the correct diameter and embedment depth.
❷ Use a nylon brush or high pressure air pump to clean all debris and dust inside the hole.
❸ Loosen and remove hex nut and flat washer.
❹ Insert projection bolt shield anchor into the drilled hole until anchor head being flush with the hole surface.
❺ Pass projecting bolt head through a guide hole in the fixture and vertically aligned with and close to a hole in substrate.

❻ Re-assemble flat washer and hex nut onto the projection bolt to clamp the fixture.
❼ To tighten the hex nut of projecting bolt by tool until be fixed fully.
Product size description: (mm/inch)

| | | | | |
| --- | --- | --- | --- | --- |
| Item Code | Anchor Size | Anchor Length | Drill Dia. | Normal Projecting Bolt Size |
| 4PAP06 | M6 (1/4) | 40 | 12 | M6 X 50 |
| 4PAP08 | M8 (5/16) | 50 | 14 | M8 X 60 |
| 4PAP10 | M10 (3/8) | 60 | 16 | M10 X 75 |
| 4PAP12 | M12 (1/2) | 80 | 20 | M12 X 95 |
** The special projecting bot sizes are available.
** Being available to assemble loose bolt, stud, projecting bolt, eye bolt and hook bolt.