Hanger plate is made of the high strength carbon steel by heat treatment or stainless steel material,designed to be bent into a symmetrical right angle to make the climbers easily step on it with 10 mm (3/8") and 12 mm (1/2") circular holes are used to pass through expansion bolt. The edge of another oval hole is polished to avoid cutting the rope and used to hang and connect hook, ring or pass through climbing ropes.

Rock climbing hanger plate is widely used for indoor and outdoor rock climbing and exploration to provide safe protection for climbers. When using, pre-drill a hole in the substrate and hammer expanding bolt into the hole through the round hole and place the required climbing hanger, washer and nut. Tighten the nut by tool and make expanding bolt expand and fix to complete the installation.The permanent protective device of bolt hanger will be placed on the rock surface for use by other climbers.For the purpose of protection,recommend to drill a deep hole to hammer bolt into the rock hole when the equipment is corroded.

Climbing bolts and hangers are important equipment. Climbers use a quick buckle to fix the clamp in the proper place to make climbing safer. Bolt hanger must be used with the correct suspension fixtures to form a secure and stable guarantee place.
[Features]:
★ Design to bend 90° make climbers easily step on.
★ The testing strength is 25KN--30 KN.
★ Provide inner diameter of round hole 10 mm & 12 mm sizes.
★ Made of high class carbon steel with the heat treatment or stainless steel material.
★ A round hole is used to install expanding bolt. An oval hole for hanging and connecting hook,ring and pass through climbing rope.
★ Widely used for climbing action indoor and outdoor.
★ Quick and easy to install and make the climbers more secure.
[Materials & Surface treatment]:
● Carton steel & Zinc plating and Zinc plated and yellow passivated and HDG.
[Base Materials]: ☑ Concrete ☑ Rock ☑ Solid brick wall ☑ Stone

[Applications]:
♔ Safety device for outdoor rock climbing and indoor gym climbing.
♔ Fix the rock wall and fasten the rope for deep pit and cave exploration.
♔ Escape climbing device for outer wall of high rise building in case of fire.
♔ Hang and support the objects works.
[Installation Instruction]:

(1). Drill a hole in the base material to ensure the proper diameter and depth required.
(2). Use a nylon brush to remove all debris and dust.
(3). Pass wedge anchor body through a round guide hole in hanger plate and vertically align with a drilled hole in the substrate.
(4). Hammer the head and insert into the hole.
(5). To tighten the hex nut by tool until being fixed fully.
[Product size description]: (mm/inch)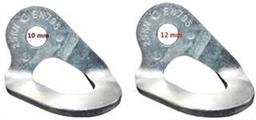 | | | | |
| --- | --- | --- | --- |
| Item Code | Round Hole Size | Bolt Size | Thickness |
| HP10A | ID 10 mm | M10-3/8" | 4 mm |
| HP12B | ID 12 mm | M12-1/2" | 4 mm |
** The special sizes are available.