Self drilling plasterboard anchors is one kind of nylon self drilling anchors, having special design,the two straight-line slotting lines and cross slot on the two sides of anchor body and the flat end,making it have the fixing and expanding functions and produce huge expansion force between anchor body and the end in the hole wall after self drilling screw is screwed into the center hole, greatly strengthen the fixing strength and the firmness of installation.

It is designed with heavy self driving helical thread as well,making it screw into the plasterboard quickly and easily for a secure fixing operation. The thin-flange head lip cause tightly adhere to the substrate surface and maintain flat state, after screwing into the board. Flat and cross slot end design need to pre-drill a attacking shallow hole in board with same end outer diameter, do not need to drill a whole embedment hole.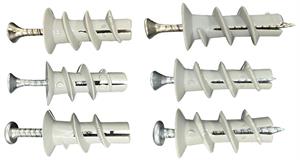 [Features]:
✪ Need to pre-drill a hole in plasterboard and other substrates.
✪ Being suitable for light duty loading.
✪ Having the fixing and expanding functions for flat & cross slot end type.
✪ Made of reinforced PA-Nylon having corrosion resistance,rust proof, UV-proof, moisture-proof, environmental protection,no-conductivity.
✪ Hollow structure and cross slot end design make self drilling screw drive into easily for installation.
✪ Easy to replace or dismantle to loose a self drilling screw and plasterboard anchor.
✪ Quick and easy to install and use.

✪ Various end types are available.
[Materials & Surface treatment]:
● Reinforced PA-Nylon & In white, grey or other color.
[Base Materials]: ☑ Plasterboard ☑ Wooden and soft material panels.

[Applications]:

♔ Cable wire system installation and fixing projects.
♔ Fixing bathroom, kitchen accessories, mirrors and photo frames.
♔ Installing fixtures and objects for interior and room decoration engineering.
♔ Installation and fixing of bookshelves, background picture and living objects.
♔ Fix light pipe fastening and electrical installation.
♔ Install curtain bars or signage indoor site.
[Installation Steps]:
① Pre-drill a attacking shallow hole and drive self drilling plasterboard anchors into the base material by screwdriver, till the head is close to the base surface.
② Pass a self drilling screw through a guide hole in the fixture, vertically align with and insert it into the center hole in the anchor body.

③ Tighten self drilling screw by screwdriver till be fixed fully.
[Product size description]: (mm)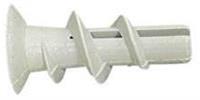 | | | | | |
| --- | --- | --- | --- | --- |
| Item Code | Anchor Size | Outer thread | Total Length | Head Dia. |
| ENEZ1523 | 15 X 23 | 12 | 23 | 15 |
** The special sizes and various end types are available.