The steel three segment shields possess strong loading and tensile strength in the pre-drilled hole in the substrate, being also suitable for enlarged hole caused by drilling in weak base materials. By pulling down the conical nut, a strong spring ensure shield anchor bolt return to normal assembled state when the improper expansion happened during the installation. By loosing the tightened fasteners, shield anchor bolts are easily removed after being installed.
Shield anchor hook bolt forged hook is completed with a forged hook bolt with shield anchor only. The forged hook bolt is made by hot forging process, which is different with the bent hook bolt. The forged hook has stronger loading advantage and prevent being opened out when loading to increase security. To tighten forged hook bolt and make a cone nut pull into and expand concrete shield anchors to generate balanced expansion force in three directions in the hole wall drilled in the base materials to ensure security of installation and usage.
Shield anchor hook bolt forged hook is sutiable for medium-heavy installation purpose. As one kind of concrete eye hook anchors, The three segment shields are made of carbon steel plate and produced by high speed automatic punching machine to ensure its high quality product performance. Shield anchor with forged hook is widely used to anchor & fix, hang or connect the objects in various structure substrate.
Product Features:
▲ Pre-assembled with a forged hook bolt & Din 934 hex nut & Din 125/9021 flat washer.
▲ Made by forging process and have stronger loading advantage than the bent hook bolt.
▲ If being loose or fall scattered, could reassemble or replace a spring to be restored.

▲ Generate three directions balanced expansion force provide optimal loading and ensure security of installing.
▲ Used to anchor & fix, hang or connect the objects.
▲ Being suitable for medium-heavy duty loading purpose.
Materials & Surface treatment:
☞ Carton steel & Zinc plating and Zinc plated and yellow passivated.
Base Materials: ☑ Concrete ☑ Masonry ☑ Brickwork ☑ Solid wall ☑ Stone

Applications:
✔Special door industry,Wall panel.
✔Installation of signs, handrails, railings, shelves and gates.

✔Installation of grating and fence and heavy machinery installing.
✔Pipe installation engineering / pipe support.
✔Cable and tower racks, cable wire installation industry.
✔Installation of starter bars for structural expansion and rectification works.

✔Structural expansion and rectification works.

✔Curtain walls, cladding and precast concrete components.
Installation Guide: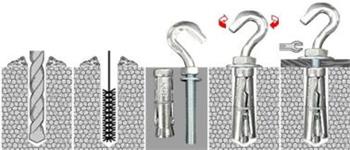 1]. Drill a hole in the base materials at right angle, diameter and depth.
2]. Clean the hole inside using a brush or air pump before installing.
3]. Reorganize anchor body to the natural state and hammer the head to insert it into the drilled hole until the flat washer tightly touch with the substrate surface.

4]. Turn the forged hook clockwise by proper tool and make body expand and fix fully for direct use purpose.
+Or, drive anchor body to pass through a guide hole in the fixture and insert into the drilled hole until the flat washer tightly touch with the fixture surface.
5]. Fasten hex nut by tool until be fixed fully.
Product size description: (mm/inch)

| | | | | |
| --- | --- | --- | --- | --- |
| Item Code | Anchor Size | Anchor Length | Drill Dia. | Normal Hook Bolt Size |
| 3PAFH06 | M6 (1/4) | 45 | 12 | M6 X 50 |
| 3PAFH08 | M8 (5/16) | 50 | 14 | M8 X 55 |
| 3PAFH10 | M10 (3/8) | 60 | 16 | M10 X 70 |
| 3PAFH12 | M12 (1/2) | 75 | 20 | M12 X 85 |
| 3PAFH16 | M16 (5/8) | 115 | 25 | M16 X 125 |
| 3PAFH20 | M20 (3/4) | 130 | 32 | M20 X 140 |
** The special forged hook bolt sizes are available.
** Being available to assemble loose bolt, stud, projecting bolt, eye bolt and hook bolt.