In cable installation industry, The outdoor cable guard is widely used to protect power and telecommunication cable at riser installation project.They provide reliable protection to cable line against collisions and vandalism. The guards without frustrum could be used as extensions to adopt any desired height on the pole.The carriage bolt assembly is furnished on U style to fasten extensions and to serve as a ground lead attachment. To protect and make vertical pole cable neat and safe.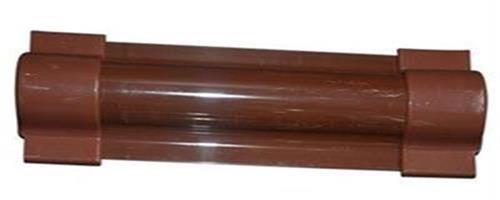 The polyvinyl chloride material construction feature make them lightweight, impact resistant and have long usage life; resistant to color fading, cracking, and distortion. Section end have one belled end for easy installation and protection of overlapping end joint. The Pre-drilled screw holes are designed to give non-conductive, high impact protection for utility power and communication cables installed vertically on poles. cable riser guard offers excellent impact strength and weather ability over a temperature range greater than any other non conductive riser material.

The end cap for plastic cable capping are also available in black or brown suitable for height 25 mm X width 58 mm X Length 53 mm, used to connect with the same size of cable capping with the flat section end together.